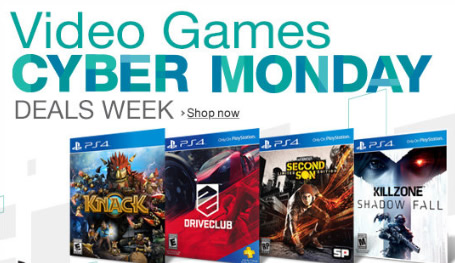 With the release of the PS4 and the Xbox One in November (and generally with new video game system releases), there was a dearth of related black Friday deals. With Cyber Monday deals already flowing at Amazon.com, will this change?
Based on early indications, it does appear that there will be both Playstation 4 and Xbox One video games featured as part of the Cyber Monday madness. For the Xbox One, there are already three titles listed on their lightning deals calendar. This includes Forza 5, Dead Rising 3, and Ryse: Son of Rome. For the PS4, there are not any confirmed lightning deals via the holiday calendar, but the video game homepage featured the above graphic hinting at some PS4 deal love. The graphic features Knack, Killzone Shadow Fall, Drive Club and Infamous Second Son. While this certainly doesn't confirm these titles will be discounted, it does provide a strong clue as previous graphics have proven.
Of course those who haven't traded in their Xbox 360, PS3, Wii, PS Vita, and 3DS systems can continue to enjoy game discounts as the featured and lightning deals lists are flooded with deals starting at $9.99, many of which are live now at the Amazon Cyber Monday video game deals hub. Over 1000 video games have Cyber Monday discounts in their featured deals section (just below the lightning deals). Highlights here include Borderlands 2 Game of the Year Edition Saints Row IV, or Injustice Gods Among Us for $29.99. $14.99 titles include Grand Theft Auto IV Complete, Red Dead Redemption Game of the Year, and Ni No Kuni Wrath of the White Witch. Other notable deals include the PS3 500 GB Grand Theft Auto V Bundle for $229 and Killer is Dead for $19.99. As far as PS Vita games, there are some notable $9.99 deals including LittleBigPlanet, Gravity Rush, PlayStation All-Stars Battle Royale, Uncharted: Golden Abyss, Sly Cooper: Thieves in Time, Resistance: Burning Skies and Unit 13. In addition, the $179.99 Amazon Exclusive Holiday Walking Dead Vita Bundle is back after it's Black Friday is available as well.
Finally, the Kindle Fire HDX is discounted $50 as the Gold Box 'Deal of the Day' for Cyber Monday…
Source:  Amazon Cyber Monday Deals Hub

Other Cyber Monday sections:
Movies & TV
Electronics
Toys & Games
Books
Magazines