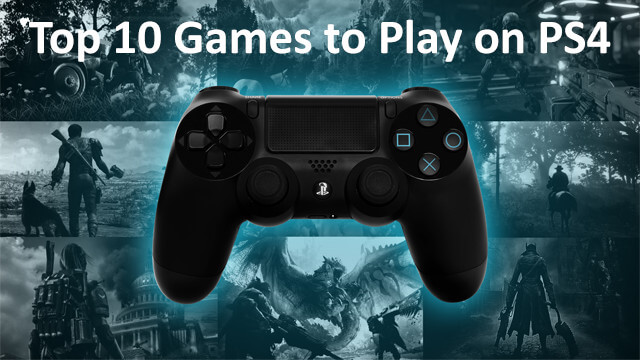 Playstation 4 is arguably Sony's greatest achievement to date and comfortably sits atop the throne of the gaming consoles war since 2013. It might be entering its eighth and final year in 2020 but that does not necessarily mean you can not be a new owner. Its an incredibly powerful console and super-hit exclusives make it stand out on top of the list.
But most importantly, a high-speed internet connection to play online and a library of those top-notch PS4 games are required to make the most out of this console.
There is an everlasting jampacked list of PS4 games and finding the best ones could be time-consuming. That being said, don't worry, we've got your back as we're here with a definitive list of top 10 games to play on PS4, so let's get started!
1- Grand Theft Auto V
Starting with my personal favorite, Rockstar North's GTA V is an action-adventure game. It is set within the state of San-Andreas and can be played either from the first or third-person perspective. The story follows three criminals a young street hustler, a retired bank robber, and a psychopath trying to commit terrifying heists to survive in this ruthless world where they can trust nobody. The open-world style lets players roam around freely, navigated either on foot or by a vehicle. The story lineup centers the sequence of heists and several missions based on shooting or driving gameplay. Its extensive marketing and wide anticipation has broken many industry sales records and has received many awards.
2- Bloodborne
An action role-playing game, Bloodborne, developed by FromSoftware was released in 2015. It is played from a third-person perspective. It follows the story of a Hunter that makes his way through an ancient city of Yharnam which has been affected by an endemic illness that turns inhabitants into mindless beasts. The game is full of unforgiving monsters and traps around every corner, hence, making the gameplay more frenetic and tense.
Also Read: Online Gaming Etiquette
3- Tetris Effect
A single-player game, Tetris is a tile-matching puzzle game developed by Monstars and Resonair that was first released in 2018 for PlayStation 4. Unlike the original Tetris, Tetris Effect has added music and themes across thirty different stages. The objective of this game is to build as many horizontal lines using falling tetrominoes as possible, once a complete line is formed it disappears and the blocks above fall one rank. It has been named as the game of purity and was also rated as the best game of 2018 by Giant Bomb.
4- Hitman 2
Hitman 2 is an action-adventure stealth genre video game that is the 7th major installment in the Hitman series. It lets you experience the ultimate spy thriller story. It is about controlling the world's deadliest assassin, Agent 47. He travels to various locations to eliminate elusive shadow clients. The game consists of 8 missions which let you travel distinct locations from Newzealand to Mumbai to the Maldives and so on. It was nominated for various awards like "Control design, 3D" and "Game, Franchise Adventure".
5- God of War
God of War is an action-adventure game that was first released for PS2 in 2005 and was later launched for PS4. It features Kratos who lives as a man in the land of Norse Gods and monsters and fight for his survival. As a mentor and a protector, he teaches his son to do the same. This game provides you with plenty of optional areas and secrets to find and is also considered to be the most visually impressive game of PS4.
6- Marvel's SpiderMan
Spiderman is an action-adventure game set in Manhattan. The all-time famous Spiderman uses his web-shooters to fire webs that allow him to swing from a skyscraper to another. Even though the main story is only estimated to be 20 hours long, there are plenty of other things and players to see. It is really hard to not feel like the real spiderman while playing this game. It is even considered as the best superhero game of its time by the critics.
7- Horizon Zero Dawn
Guerilla Games' Horizon Zero Dawn is an action role-playing game. It follows Aloy, a hunter who travels around the post-apocalyptic land ruled by robotics earlier. Enemies can be killed in many ways – setting traps, shooting with arrows, explosives, and a spear. It is considered to be the most detailed game ever released for a home console.
8- Fifa 20
Electronic Arts production, Fifa 20 has added a new feature called VOLTA. This mode focuses on street football rather than traditional matches associated with the previous versions. It has several other options to play with including three versus three, four vs four or even five vs five matches, as well as with professional futsal rules. Not only that, but changes have also been made into Penalty and Freekick mechanics with updated ball physics. You can play the Champions League, all major leagues of Europe, and build a team of your own in the career mode.
9- The Witcher 3: Wild Hunt
The Witcher 3 is a third-person perspective action-adventure role-playing game. It features Geralt of Rivia, a monster hunter character controlled by the player. He has a range of weapons that can be used to kill humans and other creatures. It's incredibly well written and full of life theme has resulted in the production of Netflix's most high profile TV show.
10- Red Dead Redemption 2
Rockstar's Red Dead Redemption 2 is an action-adventure game that can be played from a first or third-person perspective. The game is set in an open world featuring Arthur Morgan who is required to complete different missions. It starts slow but will have you hooked as you proceed ahead with the game and can provide entertainment and enjoyment for weeks.
Wrapping up
With new titles coming to the PS4 universe every month, things are going to get even more exciting for the console owners. All those PS4 exclusives are hard to beat. With the launch of PS5 in 2020, we are expecting more chaos in the world of consoles with titles like Last of Us 2.